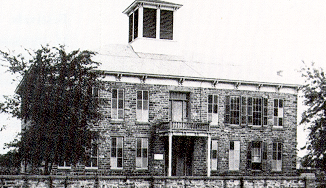 Following the destruction left by the Civil War, the Muscogee (Creek) Nation began restoring order to their new home. In 1867, the Nation adopted a new constitution calling for a new national government modeled on a bicameral legislative system similar to that of the United States. In 1867, the Nation constructed a log cabin capitol building at the newly selected national capital of Okmulgee to accommodate the meetings of the legislative branch, House of Kings and House of Warriors, of the new government.
A Post office opened there on April 29, 1869, under the spelling Okmulkee until November 15, 1883, when it became Okmulgee. The town's name is of Muscogee origin, Okmvrke, translated as "boiling water" and is named for the historic tribal town, Ocmulgee, in present Russell County, Alabama.
The two-story, log council house of the Creek Nation was constructed near the edge of a stand of timber and quickly became the center of town. In 1878, fire destroyed the council house, and a stone structure was built in its place. The Creek Council House received designation as a National Historic Landmark in 1961 and was listed in the National Register of Historic Places in 1966 (NR 66000632) Downtown Okmulgee was added to the Register in 1992.
The Council House remains at the center of the historic Okmulgee town square. It is now operated by the Muscogee (Creek) Nation Cultural Center & Archives
1878: The stone structure is built after a fire destroys the original Council House build in 1868
1906: The U.S. Department of the Interior removes the Council House from the possession of the Muscogee (Creek) Nation
1923: The Creek Indian Memorial Association establishes the Creek Council House Museum as an education center for Native American history
1961: The National Park Service designates the Council House as a National Historic Landmark and it is also listed on the National Register of Historic Places (1966)
1971: The U.S. Department of the Interior sells the building and the grounds to the City of Okmulgee
2010: The Muscogee (Creek) Nation regains ownership of the Council House from the City of Okmulgee
2013: The Muscogee (Creek) Nation acquires the collections of the Creek Indian Memorial Association
Share